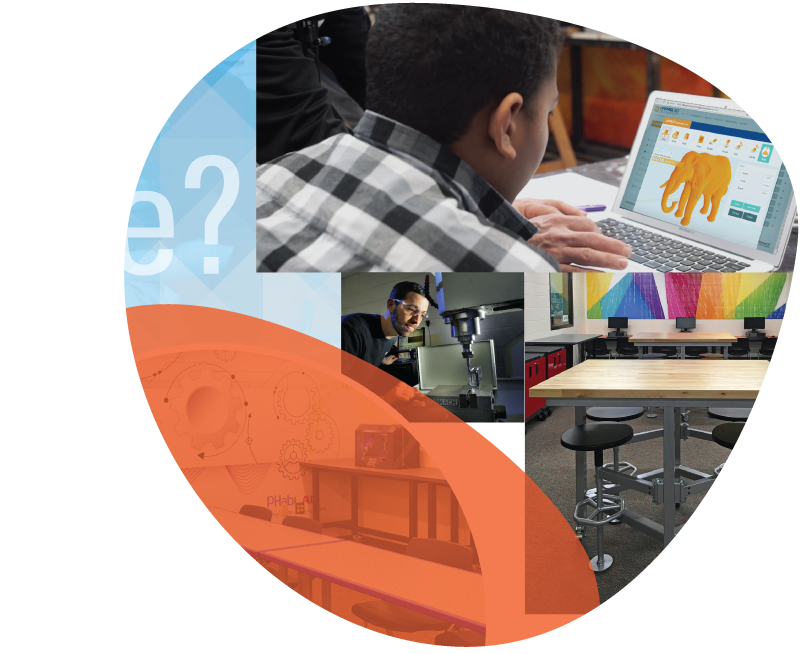 A Phablab or Makerspace is a place for innovation, invention, collaboration, and learning using various technical tools and materials to fabricate artwork and products. Students learn to be creative, turn an idea into a reality, and use it in the real world. For students on CTE tracks, these spaces can show them a path to future careers in design and fabrication using the same tools they'll use as adults.
Whether called Fab Labs, STEAM Labs, Hackerspaces, or Makerspaces, these "Project-Based Learning" labs are popping up in educational institutions all around the globe. A Fab Lab is not just for tech courses; all STEAM classes use the spaces to enhance their curriculum.
Designed to fit into your room and school environment
customize designs that meet the needs of your students and school facility
Palmer Hamilton and STS Partnerhsip
STS is pleased to partner with Palmer Hamilton to provide a turnkey approach to designing, installing, and training your faculty to embrace inventive thinking with their PHabLAB solution. No lab is precisely the same, and STS will customize a design to meet the needs of your students and school facility.
The first phase of a PHabLAB engagement is a design and needs assessment. Contact us today and schedule a no-obligation consultation to learn how PHabLAB can deliver actual academic results.